St John's
Head Coach: Chris Mullin
Location: Jamaica, NY (Queens)
Conference: Big East
Nickname: Officially: Red Storm. Unofficially: Johnnies, Redmen
Mascots: Johnny Thunderbird
Last time out: Beat Central Connecticut 80-55
Typical Rotation Depth: 9
Line: Saint John's by 7
4 Factors:  Great at turning over teams, good shooting, poor rebounding on both ends
Tempo: Run and Gun
Style: Frantic 3pt shooting combined with defensive on ball pressure 
Impress you friend's facts: St. John's is 9th all time in all time Div 1 wins
Impress you friend's facts: Before NBA stardom Mullin played for St John's in the early 80s and led them to their only Final 4 in 1985 under legendary coach Lou Carnesecca.  He is still the school's all time leading scorer.
Impress you friend's facts: Chris Mullin and assistant coach Mitch Richmond along with Tim Hardaway Sr were known as the dynamic scoring Trio "Run TMC" for Golden State for two magical years.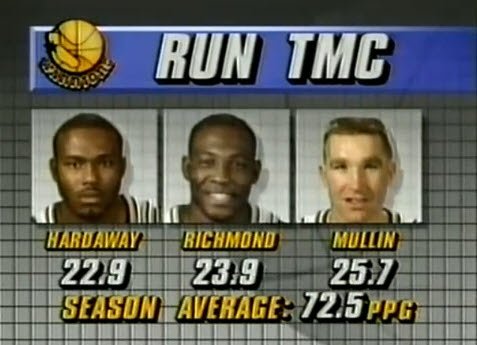 Impress you friend's facts: St. John's has generated 30+ points off of turnovers in the last 2 games
Notable Injuries
Nebraska: Anton Gill (Questionable), Thomas Allen (Questionable)
Seems likely that Gill still won't play in this one.  I think we'd prefer to rest Allen here given that it's a long season and I doubt Miles wants to throw the freshman into the deep end right now. If Watson gets into foul trouble you might see Allen check into this one.
Player to watch:  Shamorie Ponds and Marcus LoVett
The 6'1" sophomore SG just oozes talent, leading the team in rebounding while currently 2nd on the team in scoring. He can score anywhere on the court and it's a matter of containing him vs stopping him.  You could say most of the same things about PG Marcus LoVett.  A lot of people consider the duo to be the best backcourt in the Big East
Player to watch:  Justin Simon
The Johnnies shoot a lot of 3s but Arizona Transfer Simon doesn't.  The physically imposing 6'5" guard is going to take you to the rim or pull up for a jumper.  How well did we read the scouting report? Will the guys bite on a pump fake at the 3 for a guy who doesn't shoot them?
Player to watch:  Marvin Clarke
The Michigan St transfer is a classic Izzo 6'7" 230 PF capable of hitting from outside and playing some center.  His versatility is noteworthy as he's either the small ball center with an extra shooter or the 4 paired with one of the shot blocking but offensively limited centers. 
The Skinny: This really isn't a pivotal game for either team; it's a nice little matchup for two High Major teams to gauge where they're at early in the season.  St John's is in their 3rd year under Mullin who has been increasing the talent and expectations. After 2 losing season the Red Storm is picked by many to finish in the middle of the Big East with a shot at making the tourney.
St John's is completely guard driven with LoVett, Ponds, and Simon dominating the minutes and scoring. Beefy freshman Bryan Trimble adds some 3pt shooting along with tweener Bashir Ahmed. Supporting Clark in the backcourt are shot-blockers Yakwe and Owens. Also in play is seldom used senior center Amar Alibegovic who joins Clark as the only Johnnie weighing over 220lbs
Offensively, St. John's is Creighton-Lite, attacking either the basket or from the 3 quickly and through great ball movement. Defensively, they're trying to hurry you into mistakes and turnovers, which in turn generates more offense; the Red Storm have scored 30+ points in their first two games off of turnovers.
If you've followed St. John's at all you know that with those great guards comes a shaky front court and serious rebounding issues so Nebraska doesn't necessarily have to outshoot the Red Storm if they can grab second chance rebounds.  Speaking of rebounds, just how good are the Huskers?  The loss of Morrow and Jacobson hurt the most in the rebounding department and the Huskers with Roby, Jordy, and Copeland have looked serviceable thus far.  What happens when you need to rebound against a team with actual players over 6'9"? Nebraska hasn't necessarily been tested here.
Miles already talked about slowing down this road game against a team that thrives on speed.  Offensively look for the Huskers to attack the rim anytime to St. John's goes small and to attack the foul prone post players when they go big.  Anti-turnover machine Glynn Watson should hopefully handle the ball a lot in this one and look for James Palmer to finally get back on track. While I think this is a better 3pt shooting team that we've shown, look for the Huskers to continue driving into the lane and drawing fouls; they'll be here against this team.
Look for a small rotation of players tonight with Watson, Palmer, Taylor, Roby, and Copeland dominating the minutes. St. John's will take and make 3s this game...it's what they do. Miles will attempt to keep his quickest and most athletic players on the court to counteract the Johnnies ability to space the floor and to limit those attempts.  
At the end of the day though the name of the game is turnovers and that is where tempo really comes into play.  Can Nebraska make St John's bend to its will? Will St John's turn this into a track meet? It will be Nebraska's ability to limit them and the easy points that will make St John's have to outshoot Nebraska by a large margin to win.  Look for the upperclassmen back court of Nebraska to be up to the challenge.
Prediction: Nebraska 80 - St John's 76