Nebraska Cornhuskers
at
 Wisconsin Badgers
Thursday, Feb. 9, 7 p.m.
Kohl Center 
Live Video Stream: BTN Plus
Live Radio: Husker Sports Network - Matt Coatney (PBP), Jeff Griesch (Analyst)
 KBBK107.3 FM - Lincoln; KKCD 105.9 FM - Omaha; KWBE 1450 AM - Beatrice;
KICS 1550 AM - Hastings; KHAQ 98.5 FM - North Platte; 
Free Live Audio: Huskers.com/Huskers App
Live Stats: Sidearm Stats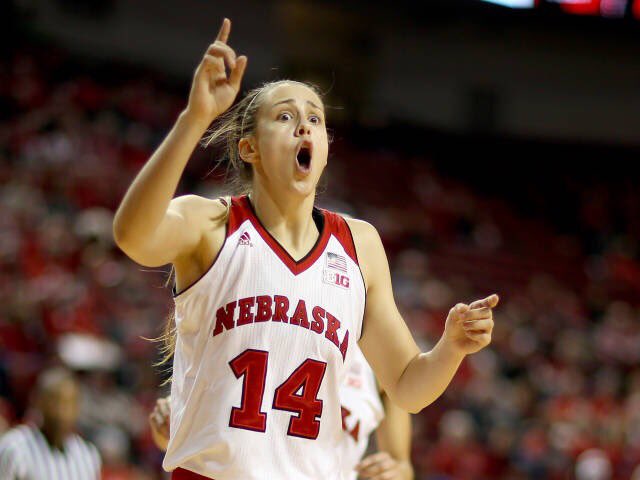 Huskers Search for Road Win at Wisconsin
The Nebraska women's basketball team takes aim at its first road win of the season when the Huskers travel to Wisconsin on Thursday. Tip-off between the Huskers (5-18, 1-10 Big Ten) and the Badgers (5-18, 0-10 Big Ten) at the Kohl Center in Madison is set for 7 p.m.
Nebraska has been challenged by the toughest schedule in school history. Nebraska's strength of schedule ranks No. 13 nationally, which trails only Minnesota's No. 9 strength of schedule among Big Ten Conference teams. Nebraska and Minnesota are the only schools in the Big Ten with top-30 schedule strengths this season.
Overall, Nebraska owns just 180 career starts. On paper, Wisconsin is one of two Big Ten teams (Rutgers) with less starting experience than Nebraska. The Badgers have combined to start just 157 for Wisconsin.
The Huskers are led by 6-4 sophomore forward Jessica Shepard, who is averaging a double-double with 18.3 points and 10.1 rebounds per game.
Shepard could reach 1,000 points faster than any player in Husker history. Hooper achieved 1,000 in her 60th career game. Shepard will be playing her 55th career game on Thursday at Wisconsin. Shepard needs two rebounds to become just the fourth Husker in history to reach 500 as a sophomore. 
Nebraska freshmen Nicea Eliely (7.4 ppg) and Hannah Whitish (7.4 ppg) could become the first pair of Husker freshmen to both average more than 7.0 points per game since 1983-84. 
Nebraska leads the all-time series with Wisconsin 8-5, with all eight Husker victories coming as Big Ten foes.
PROBABLE STARTERS:
Nebraska Cornhuskers 
32 - Jessica Shepard - 6-4 - So. - F
22 - Allie Havers - 6-5 - Sr. - C
3 - Hannah Whitish - 5-9 - Fr. - G
5 - Nicea Eliely - 6-1 - Fr. - G 
34 - Jasmine Cincore - 5-10 - Jr. - G
Wisconsin Badgers 
33 - Courtney Fredrickson - 6-2 - Fr. 
40 - Avyanna Young - 6-1 - Sr. - F 
35 - Kendall Shaw - 6-4 - Sr. - F/C 
10 - Kendra Van Leeuwen - 5-10 - Fr. - G
23 - Cayla McMorris - 6-0 - Jr. - G
Scouting Wisconsin
Coach Jonathan Tsipsis has guided Wisconsin to a 5-18 overall record that includes an 0-10 Big Ten mark in his first season with the Badgers.
Wisconsin has lost its first 10 Big Ten games by an average of 21.8 points per game and is 0-5 in home conference action at the Kohl Center this season.
The Badgers are averaging just 55.4 points per game in Big Ten play and 61.0 points per contest overall this season. They have lost their five Big Ten home games by an average of 23.0 points.
In Big Ten play, Wisconsin is shooting just 34.6 percent from the field, including 29.9 percent from three-point range and 66 percent from the free throw line.
Wisconsin owns a plus-1.2 team rebounding margin in Big Ten play, but a devastating minus-8.1 team turnover margin against conference foes.
Since Nebraska joined the Big Ten Conference prior to the 2011-12 season, Wisconsin has never won more than five conference games in a season and owns a cumulative Big Ten mark of 21-75 (.219) in that span.
Cayla McMorris is averaging a team-best 12.9 points per game on the season.  Avyanna Young is the only other Badger averaging in double figures on the season with 10.2 points per game. Suzanne Gilreath, a 5-4 guard, ranks second among the Badgers with 8.0 points per game in Big Ten action, while ranking fourth overall with 6.9 points per contest.
Husker Nuggets
 
• Jessica Shepard is the second Husker in history to record 10 or more double-doubles in back-to-back seasons.
• Shepard needs four points and two rebounds at Wisconsin to reach 1,000 points and 500 boards.
• Nicea Eliely leads the Huskers in steals (38), blocks (15) and field goal percentage (.434), while ranking second in scoring (7.4 ppg). Eliely has started all 23 games this season as a true freshman.
• Hannah Whitish is averaging 9.4 points, 3.1 rebounds, 3.7 assists and 1.5 steals in 11 Big Ten games as a starter. Whitish also leads the Huskers with 36 three-pointers on the season to rank fourth among freshmen in Husker history. She needs 10 more to catch Anna DeForge in third.
• Traditionally one of the Big Ten's best free throw shooting teams, Nebraska has struggled this season at the line. However, NU's free throw numbers are on the way up thanks to solid shooting by the Husker freshmen.
 
• Nebraska's freshmen are 41-of-49 (.837) at the free throw line in Big Ten play, while the Huskers as a team are shooting 66.7 percent.
• Rylie Cascio Jensen has hit 11 consecutive free throws, including 9-for-9 in Big Ten play and 7-for-7 at Penn State.
BEAT THE BADGERS!